CAPTURED: TBI announces the capture of Steven Wiggins, responsible for death of a Dickson County Sheriff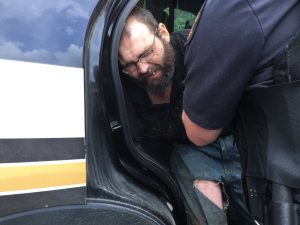 The man wanted for the first-degree murder of a Dickson County Deputy on Wednesday has been captured.
Steven Wiggins was caught on Pumpkin Branch Road in Hickman County Tennessee by a Tennessee Highway Patrol Trooper. New Trooper Kevin Burch witnessed a someone along the treeline. He approached the person and was able to identify it was Wiggins by his tattoos. Burch drew his weapon and took Wiggins into custody without incident.
Sgt Daniel Baker was shot and killed after responding to a suspicious vehicle on Wednesday. A short chase occurred and shots were fired, leaving Baker dead in his patrol car several miles from the initial scene.
Information from the State Medical Examiner shows Wiggins shot Sgt Daniel Baker multiple times.
A woman arrested on Thursday for her connection to the crime is also being charged with first-degree murder. An affidavit explains Erika Castro-Miles watched Wiggins shoot Sgt Baker to death and then fled the scene. Castro-Miles is currently in jail.
Wiggins is being treated for non-life threatening injuries at a local hospital. He will be booked directly after medical release. Wiggins' crime spiked a Blue Alert for the state, and was on TBI's Top Ten Most Wanted list prior to his arrest.
Tennesse Bureau of investigation has urged the public this is an ongoing criminal investigation. There are no further details at this time