Twin Brothers Arrested in Jonesborough on Sexual Related Charges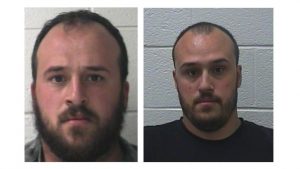 Two men are in custody after the Washington County Sheriff's Office arrested them on multiple sexual-related charges.
Twin brothers Brandon and Landon Honeycutt were taken into custody by deputies at their Jonesborough home.
27-year-old Brandon Honeycutt is charged with two counts of aggravated sexual battery and two counts of child rape. 27-year-old Landon Honeycutt faces four counts of aggravated sexual battery.
Both are being held in the Washington County Detention center. Brandon's bond has been set at $75,000 and Landon's is $50,000.