Kingsport Fire Department Officer Receives Educator of the Year Award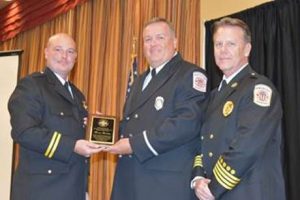 A local public education officer has been honored by the State of Tennessee.
Kingsport Fire Department's Barry Brickey has received the Bruce Womback Fire Educator of the Year Award, which was presented to him at the Tennessee Public Fire Educators Association Annual Conference in Murfreesboro.
The Bruce Womback Public Fire Educator of the Year award was created to honor the memory of the late Lieutenant of the Cookeville Fire Department.
Last year, Mr. Brickey taught fire and safety programs to more than 77,000 adults and children across 472 presentations and activities through the Kingsport Fire Department. He also helped inspect 280 car seats, teaching families how to properly install the car seats. In addition to his work with presentations and installation demos, Brickey has also played a role in distributing over 500 smoke alarms.