Bluff City Auto Repair Shop Owners Behind Bars; Accused of Running Chop Shop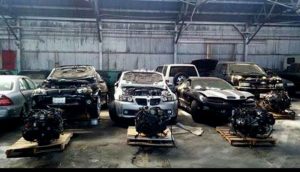 Two men are behind bars after police raided a Bluff City auto repair business and charged them with 48 federal counts including running a chop shop.
Bradley Shawn Craig and Jerry Lee Craig are accused of bringing stolen vehicles out of Washington County, Virginia into Sullivan County and then stripping them of vehicle identification numbers. They then reportedly sold some of those vehicles and their parts.
The Craig's shop was previously raided in 2017 under former sheriff Wayne Anderson who said parts from stolen automobiles were being sold and shipped online.
Craig filed a $500 million lawsuit against against various authorities in the region. The defendants in the case filed for an extension in U.S. Federal Court due to the ongoing investigation in the Craig family.
We'll keep you updated on this developing story.