Kingsport Man Arrested after Alleged Violent dispute with victim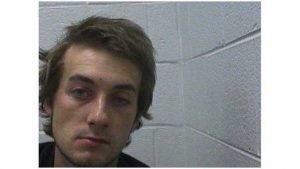 A Kingsport man accused of domestic assault has been arrested by police.
A report from the Johnson City Police Department says officers responded to a 911 call from a neighbor who heard a female screaming, just after 3:00 A.M at the Evergreen Court Apartments on South Greenwood Drive.
Once police arrived, they secured the scene and medical personnel transported the victim to Franklin Woods Hospital.
Authorities interviewed the victim before being transported, and she told officers that an argument between her and 23-year-old Austin Noel turned violent after they returned from a bar.
The victim told police that Noel threw her against a window, shoved her head into a television, covered her mouth to keep her from screaming, took her cell phone by force to prevent her from calling 911, as well as attempting to strangle her.
Police arrested Noel at the scene and charged him with aggravated domestic assault and interference with emergency calls. He was transported to the Washington County Detention Center where he is being held on a $10,000 bond. He appears in sessions court Monday.