Johnson City Development Authority to Purchase John Sevier Building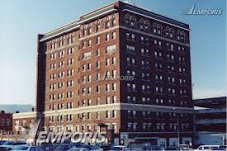 The John Sevier Building in downtown Johnson City will be purchased by the Johnson City Development Authority for $4.1 million. The purchase agreement includes a plan to relocate residents in the building within the next two or three years.
The board voted unanimously for the purchase and plans on redeveloping the property for multi-use. The John Sevier building was orginally built as a posh hotel in the 1920s. It currently has 150 units housing the elderly and low income.
The JCDA plans on requesting a purchase loan with tax increment financing for the property.