Abingdon Woman Wins $100,000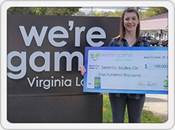 An Abingdon woman faced an interesting dilemma when she realized she had won $100,000 on a Super Bonus Crossword Scratcher ticket at 2 a.m in the morning…
Wake up her family? Or celebrate silently?
Serenity Mullins-Orr elected to jump up and down with joy as quiet as possible.
Her journey strarted earlier that day when she purchased the winning ticket at Roadrunner Market, located at 18224 Lee Highway in Abingdon. She put it away and scratched it later that night and that's how she found the winning ticket in her hand.
Ms. Mullins-Orr says she intends to use her winnings to pay bills and buy a new vehicle.