Johnson City Police Searching for Possible Serial Bank Robber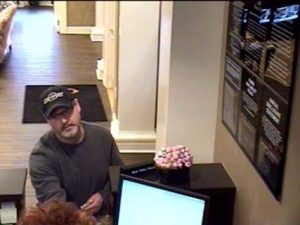 Johnson City Police are seeking the public's help in searching for a multi-state bank robber.
Johnson City Police say they were called to the Mountain Commerce Bank on Bristol Highway last Friday on a report of a robbery. The suspect entered the bank and demanded money from the register. He was reportedely last seen running south away from the bank in an adjacent parking lot.
In addition, investigators also have connected the man to another robbery last week in North Carolina. Officers in Asheville say the man entered a Sun Trust Bank, demanded money from a teller, suggested he had a weapon, and fled the scene on foot with cash.
Police have not identified the suspect by name, but have a detailed description of the man. The man is described to be between 35-45 years old with a medium build and gray goatee, wearing a black ball cap, gray sweatshirt, blue jeans, tennis shoes, and glasses.
Johnson City Police asks that anyone with information about the case should contact the Department's Criminal Investigators Division at (423)-434-6166. Those wanting to send a confidential tip can contact Crime Stoppers at (423)-434-6158, or through citizenobserver.com.