FBI Searching for "Traveling Bandit"….Man Accused of Six Bank Robberies Including One in Johnson City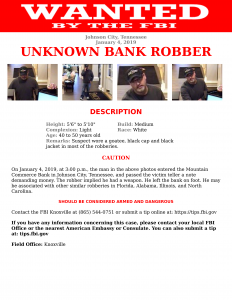 The FBI is on the trail of a man accused of robbing six banks, including the Mountain Commerce Bank in Johnson City.
A man, now nicknamed "The Traveling Bandit," has robbed banks in Tennessee, North Carolina, Alabama, Florida, and most recently Illinois.
He is described as a white male between the ages of 40 and 50, standing five feet eight inches tall, and also has worn a black cap and black jacket in most of the robberies.
The FBI is asking that anyone with information on the case including the robberies in Tennessee should call (865)-544-0751 or submit a tip online at tips.fbi.gov.