FBI Searching for Abingdon Robbery Suspect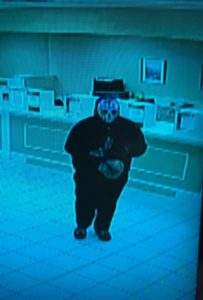 The FBI is asking for your help in locating and apprehending a bank robber who struck and robbed an Abingdon bank last month.
The bandit was wearing a mask, told the teller that he was armed with a bomb and demanded cash. The suspect is described as a white male with a large build, standing five feet eight inches.
The suspect was also wearing gloves and a gray, black hoodie.
Anyone with information on the case should contact the FBI office in Richmond at (804)-261-1044 or submit a tip at tips.fbi.gov.