Bristol, VA Arrest Three after Chase and Standoff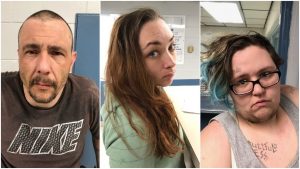 Three people are behind bars today after a police pursuit and standoff in Bristol, Virginia. An officer attempted to stop a car on Lester Street Tuesday afternoon, when the driver fled a short distance to a house. Police then arrested Audrey Miller, 24, while the search for the male driver and other female passenger continued.
Officers then found Amber Leigh McGee, 28, hiding in a wall inside a home at the 800 block of Maple Street. Kevin J. Reece, 41, was located in an attic but refused to exit. Authorities set up a perimeter around the house and eventually brought Reece into custody with the use of a flashbang.
Reece is charged with felony eluding police and possession with intent to distribute more than ten grams of methamphetamine.