Virginia High School Senior Wins Virginia Lottery Art Contest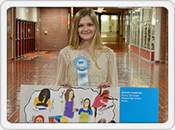 A local student in Bristol is selected as one of three winners in an art contest sponsored by the Virginia Lottery.
Alyssa Heath, a senior student at Virginia High School, has been honored by the Virginia Lottery as the high school category winner of the Thank a Teacher Art Contest.
Heath was among 700 entries into the contest, and her artwork will be featured on thank you notes that will be distributed across the state to teachers during National Teacher Appreciation Week.