Bristol, Tennessee Police Cruiser Suffers Significant damage in Officer Involved Accident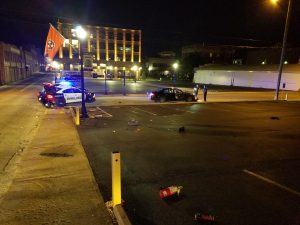 A Bristol Tennessee Police Department officer was involved in an accident that severely damaged a department cruiser.
The accident occurred near midnight on Thursday. According to officials, the cruiser was traveling on 7th Street when it collided with a vehicle on Broad St.
The force of the impact turned the cruiser nearly 180 degrees.
Neither the officer or the driver of the car were injured.
The Sullivan County Sheriff's Officer is handling the investigation.
No charges have announced at this time.