Five Month Investigation Ends With Suspect Being Extradited from South Carolina to Washington Co. Tennessee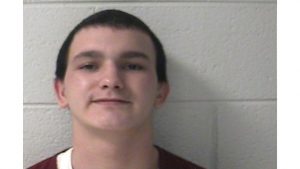 An investigation spanning five months into a suspect that allegedly drove a car at a victim, pointed a gun at another, and evaded Johnson City police custody during a chase is now in jail.
In December of 2018, officers responded to an assault investigation involving suspect Dakota Shasteen, 21, and two victims. According to the victims, Shasteen grew angry when denied an opportunity to speak with the victims juvenile son, resulting in him getting into his vehicle and driving it at one victim, then pointing a pistol at another, before driving through the yard causing landscape damage.
On January 21st, Johnson City police received a tip that the suspect, who had an active warrant for the previous incident, was in the area and armed. Police approached a home on E Lakeshore Drive and Shasteen drove off, escaping police custody. On Tuesday, an officer with the Johnson City police department obtained Shasteen from a detention center in South Carolina after completing time for crimes committed in their jurisdiction and has been extradited back to Johnson City.
He has numerous charges from both incidents. In the incident in December, Shasteen was charged with two counts of aggravated assault and one count of vandalism under $1,000. In the incident in January, police charged the man with felony evading, reckless driving, driving on a revoked license, and light law violation. Shasteen is being held in the Washington County Detention Center on a $12,000 bond and faces arraignment Wednesday April 24th, at 1:30 P.M.