Cave Rescue Situation Could Have Been Much Worse If Not For Coordinated Efforts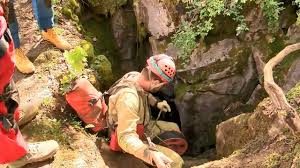 Five stranded cave explorers who were safely rescued from Cyclops Cave in Russell County continue to improve. Dozens of rescuers from across Virginia as well as other states worked to free the five men who had been inside the cave since Friday evening. The situation could have been much worse had it not been for the coordinator rescue efforts. Billy Chrimes is with the Virginia Department of Emergency Management.(: )…HYPOTHERMIA
A sixth man was able to safely exit the cave on his own power early Sunday morning and called 911.