Brightridge Unveils 10G Internet Service in Jonesborough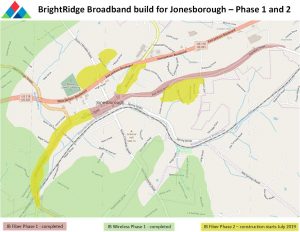 A new 10G fiber internet service from Brightridge has been unveiled in Jonesborough.
The new service launched at its first commercial business customer Main Street Cafe Thursday afternoon, and becomes the sixth area in the country to have a 10 gigabit internet service, joining areas like Minneapolis and Detroit. While Jonesborough currently is the starting point for this new service, Tim Whaley, Director of Affairs for Brightridge says expansion is coming to more areas.
"We are certainly excited that we are here at the time where we are rolling out and beginning to connect customers, particularly in the Jonesborough area and then later this month hopefully beginning in the Johnson City area," Whaley said.
Whaley also says Brightridge will seek expansion to customers in Sullivan County and providing better internet service for rural areas. More information about internet services are available at brightridge.com