FBI Investigating Improper Benefits in Tennessee Voucher Bill Vote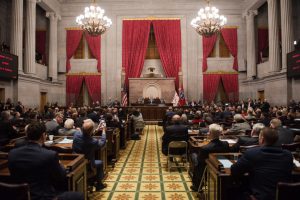 The Federal Bureau of Investigation is now looking into any improper possible incentives given or promised to lawmakers in exchange for "yes" votes on the school voucher bill.
The bill would provide state funds for parents to send their children to private schools.
The bill narrowly passed with 50-48 vote and is now headed to Governor Bill Lee's desk for signing.
The vote was deadlocked at 49 until Rep. Jason Zachary changed his vote from 'no' to 'yes' drawing criticism from many in his own party.
The program, supported by Governor Bill Lee is expected to cost Tennesseans $25 million for five years for a total of $125 million.
Vouchers have failed the TN legislature several times before prompting FBI agents to examine and possible illegal campaign finance gifts or other incentives.