JCPD: Kingsport Man Arrested for Alleged Attempted Robbery, Fleeing from Officers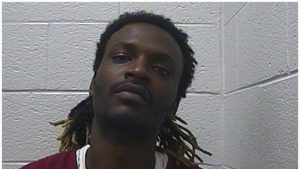 A Kingsport man is facing several charges after attempting to rob a victim at gun point and running from officers.
According to the Johnson City Police Department, they responded to a call of a individual threatening another with a gun. Police made contact with both individuals, one decided to run. The suspect, Deonte Bristol, 22, threw a package and a gun on top of an outbuilding during the chase before police apprehended the man.
Police seized the weapon and package, which turned out to have 90 grams of marijuana inside. Further investigation revealed Bristol had attempted to rob the victim at gun point and the gun used in the robbery was reportedly stolen.
Charges against Bristol include aggravated robbery, felony possession of Schedule VI, Possession of a Firearm during the commission of a Felony, Evading Arrest, and Possession of Stolen Property. Bristol is currently held on a $75,000 bond in the Washington County Detention Center and goes to court Tuesday May 14th at 3:30 P.M.