Two People Arrested Transporting Meth from Tennessee to Virginia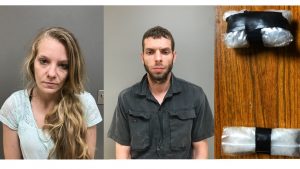 Two people are behind bars after police say they transported a substantial amount of crystal meth from Tennessee to Virginia.
30-year-old Michael Shane Icenhour and 27-year-old Stephanie Nicole Beavers were stopped by a detective on U.S. Route 23 in Pound.
Text messages indicate the couple planned on taking 60 grams of meth across the state line. Officers then found the the drugs, a gun and $1,200 cash.
The drugs have an estimated street value of $6,000. Icenhour and Beavers are facing multiple charges and are being held in the Southwest Virginia Regional jail.