Johnson City Man Points Gun at Woman; Leads Police on Chase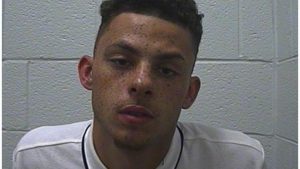 A Johnson City man has been arrested of police say he pointed a gun at a woman and led authorities on a chase, which included almost hitting a pedestrian.
20-year-old Gavin Muse is facing numerous charges including two counts of aggravated assault, reckless endangerment and evading arrest.
Muse initially fled from officers at a gas station on S Roan Street where he put in jeopardy the lives of pedestrians and officers. He was eventually stopped without any further incident and a search of his backpack revealed over 4 grams of a white powdery substance believed to be cocaine. Officers also found brass knuckles in Muse's pockets.
He was taken to the Washington County Detention Center where he is held on $101,000 bond.