Alleged Break-In at Johnson City Apartment Complex Lands Four Suspects, Including Two Juveniles In Jail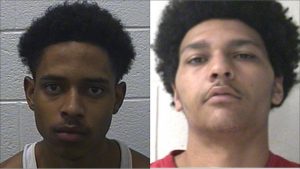 Four people including two juveniles are behind bars for allegedly breaking into an apartment and robbing the homeowner in Johnson City.
Police say they were called to the Deanwood Apartments on Carroll Creek Road in reference to a home invasion. An investigation found that the suspects kicked in the front door to the apartment and threatened the individuals inside with a gun. A shot was then fired and the suspects took money from the homeowner. They then fled on foot when police arrived.
Devonne Cole, 19, Rahleik Garcia, 18, and two unnamed juveniles face numerous charges including aggravated robbery and aggravated assault. Cole and Garcia are being held at the Washington County Detention Center, while the juveniles are held at the Upper East Tennessee Regional Juvenile Detention Center.