Rogersville Man Apprehended in Scott County for Allegedly Stealing Vehicle and Running from Deputies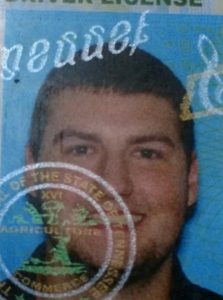 A Rogersville, TN man is accused of stealing a vehicle from a female's driveway in Scott County, Virginia.
Scott County authorities received a call from a female about a Blue Saturn being stolen by suspect Preston Harrison Tate Moore. The victim told police Moore took the tags off of her truck and placed them on the Saturn. A female, Lisa Marie Nickels, dropped the man off at the home in a Honda with improper registry. Weber City Police located the vehicle on Wadlow Gap Highway and attempted to stop the man, but Moore eluded officers before abandoning the vehicle after reaching a dead end on Filter Plant Road.
The suspect fled on foot, but deputies spotted Moore in the woods near a home on the Nickelsville Highway, bringing him into custody. Charges are pending for Moore and Nickels.