Elizabethton's Covered Bridge Celebration Begins Friday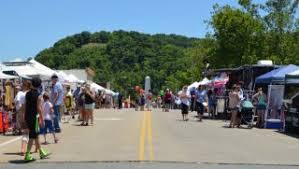 Elizabethton's annual Covered Bridge Celebration kicks off Friday.
The event will be in downtown Elizabethton, and Daniel Grindstaff, Entertainment Coordinator for the festival, discusses some of the aspects that Covered Bridge will offer to festival goers this weekend.
"We've got a lot of really good vendors this year including food vendors and craft vendors. The entertainment will be really good both Friday and Saturday. John Berry will close out Saturday night as the headliner, and he's had a lot of success. Fireworks will follow John's show around 9:30 Saturday night," Grindstaff said.
Road closures will also take place around the event grounds. This includes the areas of East Elk Avenue from Sycamore Street to Highway 19E, Riverside Drive from East E Street to Hattis Avenue, Academy Street from 2nd Street to East Elk Avenue, and Main Street from 2nd Street to 3rd Street.
The celebration concludes Saturday night. To learn more about the Covered Bridge Celebration, visit http://www.elizabethtonchamber.com/pages/CBC.