Citizen Group Appeals Pal's Construction in Abingdon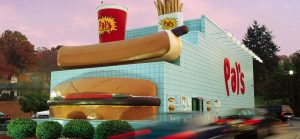 An Abingdon citizens group has voiced disagreement over the city's approval of Pal's Sudden Service due to the signature teal color of the restaurant.
Now Pal's CEO Thom Crosby has threatened to not build a restaurant at the Meadows development in town if it rescinds the previously approved Certificate of Appropriateness for development at the site.
The Abingdon Planning Commission approve the certificate with a 4-1 vote.
Friend's of Abingdon, a group of local residents appealed the vote.
The approved site plan complies with town code and pending the result of the appeal Pal's is free to continue development.