Tusculum Receives Authorization to Grant Doctorate Degrees, Initial Plans Include Offering Doctorate in Optometry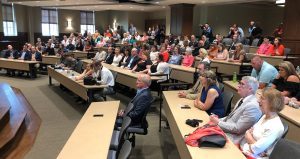 Getting a doctorate in optometry from Tusculum University will soon become a possibility.
Tuesday, the university announced that it received authorization from the Southern Association of Colleges and Schools Commission on Colleges to add doctorates to the list of degrees made available to students. As a result of the decision, Tusculum is considered a Level 5 higher education institution, and its first proposal was to offer a doctoral degree for optometry.
"The collaboration by everyone at Tusculum to achieve doctoral-level status was extremely impressive and demonstrated our commitment to enhance the university's quality and serve the region," said Dr. Greg Nelson, chairman of the Tusculum Board of Trustees.
Tusculum will now operate the 24th college of optometry in the country.
Courtesy of Image: Tusculum University