Elizabethton Police Arrest Man for Allegedly Damaging Property That Includes American and POW Flag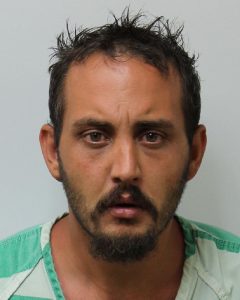 Police in Elizabethton have arrested a man after they say he allegedly threw a retired flag box containing the American and POW flag.
Elizabethton Police responded to a call on Friday June 28th of a subject hitting things on East Elk Avenue. They saw the American and POW flag moving on the flag pole at the Veterans Memorial, and then witnessed suspect A.B Carr throwing the flag box. Authorities say Carr seemed very disoriented and pointed at the flag saying, "That flag is taking our freedoms away!"
Carr was detained shortly after, and during an investigation, police found further damage to other property along the street. Damage included a paper box turned on its side and dented, as well a flag drop box which had a bent leg from being thrown down.
Carr was arrested and charged with desecration of a venerated object, resisting arrest, vandalism, and disorderly conduct. He is currently being held in the Carter County Detention Center and goes for a court appearance July 22nd at 9:00 A.M.
Courtesy of Image: Carter County Detention Center