BREAKING: Deputy with Carter County Crashes Into Screen of Stateline Drive-In Theater During Pursuit, Police Arrest Suspect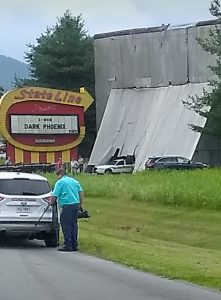 A pursuit in Carter County has ended with a deputy crashing into the Stateline theater movie screen and a suspect taken into custody.
According to Public Information Officer for Carter County Thomas Gray, initial information states a pursuit began by Elizabethton Police, and as the suspect fled out of the city limits, county deputies picked up the pursuit. One deputy traveling on Highway 19E, crashed while avoiding traffic into the Stateline drive in theater, however, deputies were able to arrest the suspect.
This is all of the information we have at this time, and we will update as we learn more.
Courtesy of Image: Josh Williams (Facebook)