Police Searching for Teen Last Seen in Sevierville, May be in Elizabethton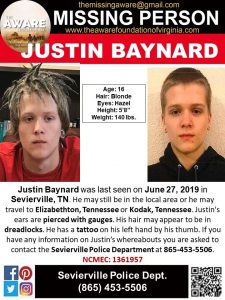 A missing teen out of the Sevierville area may in the Tri-Cities.
A Facebook post from the AWARE Foundation says Justin Baynard, 16, was last seen June 27th, and he may have traveled to either Elizabethton or Kodak, Tennessee. He is described as five feet eight inches tall weighing around 140 pounds, with gauges pierced in his ears, and hair possibly in dreadlocks. He also has a tattoo on his left hand by his thumb.
Anyone with information on Baynard's location should contact the Sevierville Police Department at 865-453-5506.
Courtesy of Image: AWARE Foundation