BREAKING: Jury Finds Tristan Rettke Not Guilty of Civil Rights Intimidation & Disorderly Conduct, Guilty of Disrupting a Meeting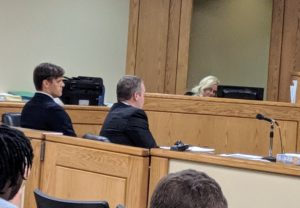 UPDATE (2:06 P.M Wednesday in Washington County Criminal Court): The jury finds Tristan Rettke guilty of disrupting a meeting, subject to a $500 fine. The jury finds Rettke not guilty of civil rights intimidation and disorderly conduct. We'll have more information from the verdict coming up later today.
Previous Story (as of Tuesday)
Testimony ends in the ETSU civil rights intimidation case. The jury will begin deliberating the case Wednesday morning. They will decide if the actions of former student Tristan Rettke—who came to a Black Lives Matter demonstration on campus in Sept. 2016 in a gorilla mask while dangling bananas tied to a rope in front of participants– drove the students to feel fear or be intimidated. The court heard part of Rettke's statement to campus police that day. He told an officer that he went to the display for his amusement with no intentions to harm anyone. One student testified that Rettke's actions brought him visions of lynchings and civil rights violence from years past.