ETSU student to Rettke: Has he changed since 2016 "gorilla mask" counter-protest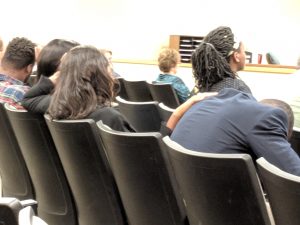 Emotion was part of the proceedings this week in the trial of a former ETSU student who disrupted a Black Lives Matter demonstration in Sept. 2016. Tristan Rettke, now enrolled in another school, was a freshman when he tied a banana to a noose-like rope and dangled it in front of silent students at Borchuck Plaza. Rettke was cleared of civil rights intimidation charges but one of the students who testified, Trevor King, wanted to talk with Rettke to see if his viewpoint had changed since that day.
"I did, kinda, want to speak to him to see if his mind changed at all. I could tell at the beginning (of the court proceedings) that nothing had changed. He was sticking to how he is being justified (with his actions). I mean (his attorney) even compared him to the Ku Klux Klan," King said Wednesday.
King also said he wants people to remember the stance of select students that day, one of peaceful, silent protest against police brutality.
*PHOTO: Current and former students from East Tennessee State University sit and hear testimony during the two-day trial of former freshman Tristan Rettke. The students, who took part in a Black Lives Matter demonstration in Sept. 2016, testified for the state in Rettke's civil rights intimidation trial. (K. Castle / SuperTalk 929 WFHG)