Rettke attorney: He had a right to express himself at ETSU Black Lives Matter event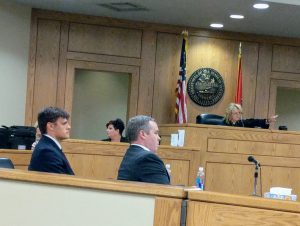 A trial where the First Amendment was defended by both parties including the one of an ETSU student dressed as a gorilla at a Black Lives Matter demonstration closed on Wednesday with not guilty verdicts against Tristan Rettke for civil rights intimidation.
Rettke's attorney Patrick Denton said his client has regrets about the 2016 incident that captured national headlines but even as racist as Rettke's viewpoint was, it was his to make without penalty.
"Everyone saw the video. He had an opinion out there they same way that (the BLM protestors did). I'm not going to take up for the substance of it but he had a right to voice his message and he did that," Denton said Wednesday.
Rettke was found guilty of disruption of a meeting, a Class B misdemeanor, and will be sentenced Aug. 14.
(PHOTO: Tristan Rettke sits in Washington County, TN Criminal Court Wednesday with his attorney Patrick Denton as the verdict is read in his case. Rettke was cleared of civil rights intimidation charges related to his gorilla mask and banana display at a 2016 Black Lives Matter demonstration at East Tennessee State University. (K. Castle / SuperTalk 92.9 WFHG))