Former Kingsport Police Department K9 Macho Passes Away at 13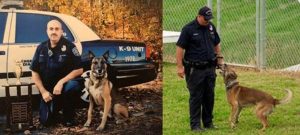 The Kingsport Police Department has announced that veteran K9 Macho has passed away at the age of 13.
K9 Macho was first acquired by the department in 2008 and worked for three years before receiving the top dog award in Region 8 of the United States by the U.S Police Canine Association. During his time on duty, he helped execute numerous narcotic busts and captured fugitives.
He retired from duty in 2014.
Courtesy of Image: Kingsport Police Department