SolSmart Awards Southwest Virginia Counties/Cities for Efforts in Solar Energy Usage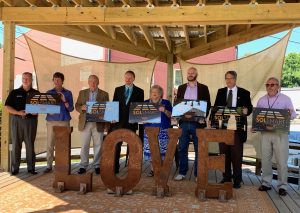 Eight localities in Southwest Virginia are being recognized for their stellar work in solar energy.
The counties of Wise, Dickenson, Russell, Scott, Tazewell, and the cities of Norton and St Paul were awarded Solsmart designations Thursday for finding quick and cost effective ways to install solar energy systems. These communities received in-depth technical assistance from SolSmart Advisor Gary Hearl, President and Managing Member of Elevation Energy & Communications LLC. SolSmart Advisors work intensively with communities to help them meet solar energy development goals.
"What it comes down to in so many cases is saving money," Hearl said at the event. He noted that solar projects will be an economic development opportunity for the region. For example, it's beneficial for data centers in Southwest Virginia whose clients and customers are interested in sustainable energy. In addition to its current efforts, more projects are in the works to increase solar energy usage in the region that includes Ridgeview High School in Clintwood and Lonesome Pine Technology Park in Wise County.
Courtesy of Image: SOLSMART