Johnson City Man Arrested for Allegedly Threatening Two People With Knife, Fleeing the Scene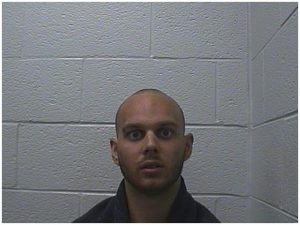 A Johnson City man is in jail after police say he allegedly threatened two individuals with a knife.
Stephen Harris, 25, is charged with two counts of aggravated assault. Police responded to a disturbance over the weekend at a lot on Leeland Road where they found that Harris had left the scene, but learned the two victims, one being the man's ex-girlfriend were threatened. The victims also told officers that Harris had gotten into a physical altercation with them before fleeing. Authorities shortly after located Harris and arrested him.
Harris was taken to the Washington County Detention Center and was held on a $30,000 bond. He is being arraigned today at 1:30 P.M in Washington County General Sessions Court.
Courtesy of Image: Washington County Detention Center