Pillion: Fellow delegate's outburst at Trump speech was for re-election campaign fodder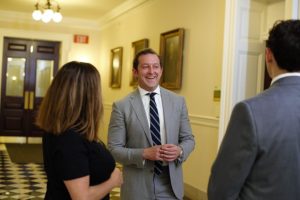 During an appearance on the SuperTalk Morning Show with Scotty Campbell, Delegate Todd Pillion condemned the actions of fellow lawmaker Ibraheem Samirah who disrupted the comments of President Donald Trump during Tuesday's appearance in Jamestown.
"In the midst of all this, all this pomp and circumstance and all this planning by, like I said, a bipartisan group we have one gentleman, one delegate who knows the rules, stand up, hold up a placard and start screaming," Pillion said.
Pillion said he thought the moment was pre-planned and a stunt for the delegate's re-election campaign.
"…And then was immediately removed by Capital Police but surprisingly was available for press clips after the event," he said.
(PHOTO: Del. Todd Pillion / Facebook)