Kingsport Woman Charged In Alleged Violent Drunken Assault Incident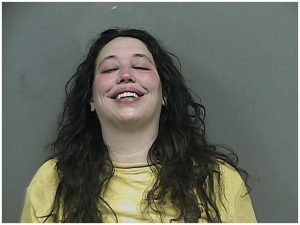 A Kingsport woman is in jail on accusations she hit her boyfriend with a lug wrench and tried to force him off of the roadway.
A report from the Kingsport Police Department says Laura Hadges is charged with aggravated domestic assault and public intoxication. During an interview the victim, he told police that Hadges, who later advised she had drank half a gallon of vodka, was intoxicated and did not want Hadges to stay at his place. He then advised he was taking her to her mother's house in Virginia, and on the way there on Interstate 26, the victim states that Hadges hit him and then grabbed the steering wheel, trying to make him wreck. The victim pulled off into a welcome center, and alleges that Hadges then hit him with a lug wrench as well as scratching him, which caused lacerations.
An officer interview Hadges about the incident, and Hadges told the officer that she hit him "because he f****ng deserved it." Hadges was arrested shortly after and taken to the Kingsport City Jail.
Courtesy of Image: Kingsport City Jail