Man Charged in Tuesday Crash in Hawkins County That Sends Four to the Hospital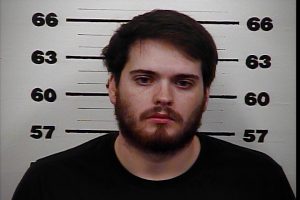 A Rogersville man is in jail and four people are in the hospital following an accident Tuesday in Hawkins County.
The Tennessee Highway Patrol says Brandon Mcgee, 25, is facing charges that include DUI and four counts of aggravated assault. A crash report from the agency says Mcgee was traveling in a 1999 Toyota Prism on Melinda Ferry Road, and went to make a left turn on Mt. Zion Church Road. Mcgee failed to yield to another vehicle, a 2014 Toyota SXC, causing the SXC to hit the Prism Mcgee was driving in the right side. Three juvenile passengers in Mcgee's car were taken to the Johnson City Medical Center. The driver of the second vehicle was transported to the Hawkins County ER.
Mcgee was reportedly not wearing his seatbelt.
Courtesy of Image: Hawkins County Jail