Pikeville, TN Man Arrested in Johnson City for Alleged Attempted Burglary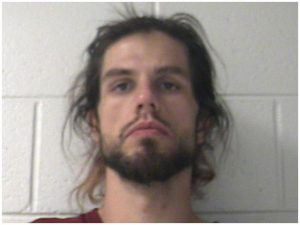 A Pikeville, Tennessee man is behind bars in Washington County after police say he attempted to break into a home and fled from officers.
Johnson City Police have arrested old Jeffrey Miller, 27, on aggravated burglary and resisting stop charges. Authorities say they were called to a home on E Myrtle Avenue for a possible burglary, and when they arrived, they spotted Miller attempting to pry a window open. Miller then fled once spotted by officers, causing a short foot pursuit that ended with him being apprehended.
He was taken to the Washington County Detention Center and was held on a $10,000 bond. Miller goes for arraignment Tuesday at 1:30 P.M in Washington County General Sessions Court.
Courtesy of Image: Washington County Detention Center