UPDATE: Bluff City chop shop suspect awaiting trial arrested for assaulting family member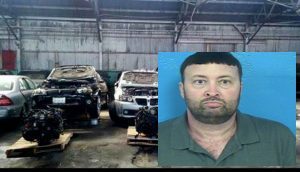 A Bluff City, Tennessee man awaiting trial on federal charges of operating a auto chop shop along with his father could remain jailed until his trial after prosecutors said he violated conditions of his pre-trial bond.
Bradley Shawn Craig was arrested this week after he reportedly assaulted a family member, according to court documents. Bradley and Jerry Craig are facing a 48-count indictment after Sullivan County investigators found more than $1 million in stolen cars, SUVs and other items at the family's auto repair business in Hickory Tree.
Bradley Craig remains jailed pending a detention hearing scheduled for Aug. 6 in US District Court in Greeneville. Father and son are set to go on trial in December.
(PHOTOS: Sullivan County Sheriff's Office)