TVA: 600 acres of Boone Lake shoreline mulched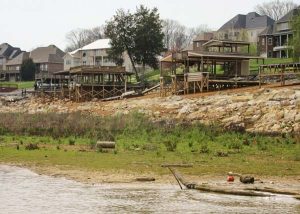 The Tennessee Valley Authority has given an update on mulching operations conducted over the past year on the Boone Lake reservoir. Several properties near the water had brush that had been overgrown since lake levels were dropped to complete leak repairs to the reservoir's dam that started nearly five years ago.
TVA Senior Construction Manager Kevin Holbrook: "To date we've mulched approximately 600 acres. That's 80 more acres than we anticipated and communicated in our public meeting last September. We've done that with the help of our workers, six individuals and some heavy equipment that's worked over the past year approximately 5,700 man hours to complete the task without a safety or environmental issue."
Other properties and boat docks will be evaluated and more mulching work will continue next spring.
(PHOTO: TVA)