High times: Aerial search reaps 198 marijuana plants in Smyth County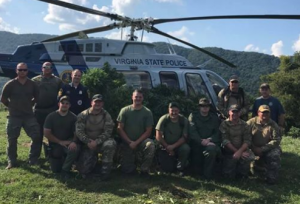 An aerial and boots-on-the-ground search reaped a huge reward for Southwest Virginia investigators.
Sheriff Chip Shuler announced Wednesday that a recent drug eradication operation conducted by the Smyth County Sheriff's Office and the Virginia State Police concluded with the discovery and removal of 198 marijuana plants from property located in the town of Saltville. Prior law enforcement estimates place the value of those plants at nearly $200,000.
(PHOTO: Smyth Co. Sheriff's Office / Facebook)