JCPD Searching for Suspect in Alleged Theft Case of 92-year old woman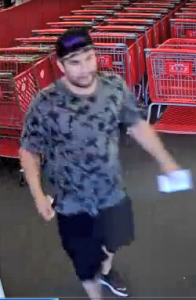 Police in Johnson City are asking for the public's help in identifying a suspect in a theft case.
Johnson City Police say they spoke with a 92-year old woman at Cornerstone Village South, an assisted living community, who told investigators a man rang her doorbell claiming to be the grandson of the next door tenant and asked if he could wait inside for his grandmother. The suspect was allowed to wait there, but upon leaving, the woman discovered items missing from her apartment, including her credit card that had been used at various stores in Johnson City.
Anyone with information on the identity of the suspect or case should contact the Johnson City Police Department Criminal Investigations Division at (423)434-6166 or Crime Stoppers at (423)434-6158.
Courtesy of Images: Johnson City Police Department