BREAKING: Jet carrying Dale Earnhardt, Jr., wife crashes after landing at Elizabethton airport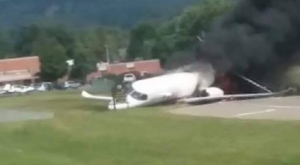 Preliminary information from emergency and other officials in Elizabethton, Tennessee indicate a jet carrying NBC Sports NASCAR analyst and former Monster Energy Series driver Dale Earnhardt, Jr., and his wife Amy crashed just after landing Thursday afternoon at the Elizbethton Municipal Airport located on Highway 91.
Airport Manager Dan Cogan told SuperTalk that everyone was "okay" and got off the plane but gave no other information.
Highway 91 will be closed indefinitely until the scene has been secured. We will bring you more information as it develops.
(PHOTO: Elizabethton / Carter County TN Scanner Feed / Facebook)