Eyewitness: 'I saw Dale Jr. run from plane crash with daughter Isla in his arms'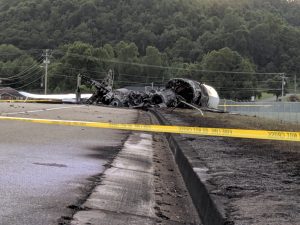 "Flames were shooting up maybe 20 or 30 feet in the air."
Sissy Moody describing the devastation left in the wake of Thursday's plane crash that she witnessed near Elizabethon Municipal Airport.
That plane was carrying NASCAR great and NBC Sports NASCAR analyst Dale Earnhardt, Jr., his family and two pilots who escaped serious injury following impact near Highway 91.
Moody says beyond the smoke and fire, she could she EMTs working with Dale Jr. who was lying on the ground after running from the craft with his 1-year-old daughter in his arms.
The eyewitness also lauded the quick response of emergency and rescue teams who came to the aid of the couple.
Information provided by FOX Sports Thursday night said Earnhardt traveled to Bristol Motor Speedway to meet with friends and track officials following an exam at a local hospital.
(PHOTO: K. Castle / SuperTalk 929 / WXBQ News)