NTSB Press Conference Reveals Initial Findings From Thursday Plane Crash Involving Dale Jr. and Family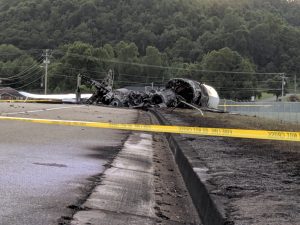 The National Transportation Safety Board held a press conference Friday regarding the jet crash involving Dale Earnhardt Jr and his family on Thursday. Senior Investigator Ralph Hicks says the flight took off from Statesville, NC, which is approximately a 20 minute flight. While upon landing at Elizabethton Airport, Hicks said this.
"The airplane basically bounced at least twice, before coming down on the right main landing gear. The airplane continued down the runway, off to the end, through a fence, and it came to a stop behind me here on Highway 91."
Despite the crash landing, Hicks says that they don't believe there were any kind of issues with the plane.
"We're not hearing communications that indicated any kind of problem."
The NTSB will publish a preliminary report in the next seven days, and surveillance footage of the crash is speculated to be made public following the investigation.
Courtesy of Image: K. Castle (Supertalk 92.9)