University of Tennessee Permits Alcohol Sales at Neyland Stadium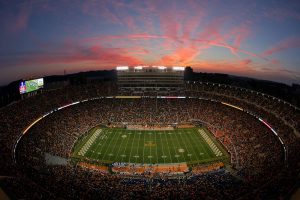 The University of Tennessee has announced it will permit alcohol sales at Tennessee football games at Neyland Stadium.
The school announced Friday morning that during purchases, fans would only be able to buy two beverages at a time, and beer sales will stop at the end of the third quarter. Last month, the Knoxville Beer Board approved the measure for sales at Tennessee sporting events, and it also follows the Southeastern Conference's lift on ban of alcohol sales at sporting events in May.
Alcohol sales will begin September 7th.
Courtesy of Image: University of Tennessee