Woman Suspected to Be on Meth Initiates Pursuit in Wash. County, Arrested by THP with Wanted Passenger Suspect Also Arrested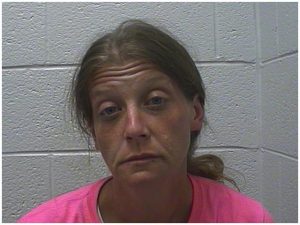 An Elizabethton woman and Johnson City man were both captured Friday morning following a pursuit with the Tennessee Highway Patrol.
Brittany Lowe, 30, and Tommy Nelson, 32, were taken into custody in Carter County. Lowe is charged with Felony Evading, Felony Reckless Endangerment, DUI, and Traffic Violations. Nelson, who was a passenger and had multiple warrants out of Washington County, was also arrested for auto theft and evading arrest. A Tennessee Highway Patrol report says troopers attempted to stop Lowe on University Parkway. Lowe stopped only for a brief moment before continuing back onto the road, initiating a pursuit that saw the woman allegedly run multiple red lights, traffic signs, and nearly strike a car at an intersection. The pursuit then led into Carter County, reportedly reaching speeds of over 100 mph, and Carter County deputies on the chase used spike strips as well as the pit maneuver to end the chase on US 321.
Once arrested, Lowe was found to be under the influence of methamphetamine, and was transported to the Washington County Detention Center. As for Tommy Nelson, he was arrested on warrants for two separate incidents where he evaded arrest from the Johnson City Police Department in July. One incident occurred on July 27th when he got away from officers trying to pull him over, and on the 28th when Nelson reportedly stole a vehicle from a victim at a Roadrunner gas station.
Nelson was scheduled for arraignment this morning in Washington County General Sessions Court, while court status for Brittany Lowe is unknown at this time.
Courtesy of Images: Washington County Detention Center
Brittany Lowe
Tommy Nelson