JCPD: Man Allegedly High On Meth Fired Shot in Apartment, Held Gun to Head Before Surrendering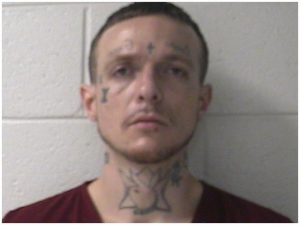 A Johnson City man is behind bars after police say he was high on methamphetamine and fired a shot in an apartment building.
Coty Arnold, 31, is charged with Domestic Aggravated Assault, Reckless Endangerment, Felon in Possession of a handgun and Possession of Stolen Property. Johnson City police say they responded to an incident Saturday morning around 9:00 A.M at 1112 King Springs Rd #3, in reference to Arnold firing a shot from a revolver inside the apartment. While police were on scene, Arnold came out of the apartment while holding a gun to his head.
Following negotiations which lasted around 90 minutes, Arnold surrendered. Arnold is currently jailed in the Washington County Detention Center on a $46,000 bond and is scheduled for arraignment in Washington County General Sessions Court today at 1:30 P.M.
Courtesy of Image: Washington County Detention Center