Johnson City among arrest stops in massive DEA operation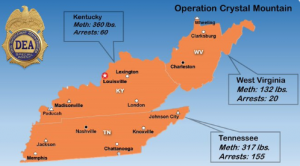 Drug dealers in Johnson City were targeted in a three-state sting by DEA agents called Operation Crystal Mountain.
More than 800 pounds in methamphetamine was seized by officers along with $800,000 in cash, 52 weapons and an assortment of other drugs including heroin. A total of 155 suspects were apprehended in Tennessee during the enforcement action.