Bristol, TN Police Searching for Alleged Burglary Suspect That Robbed AT&T at the Pinnacle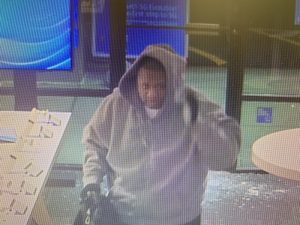 Bristol, Tennessee Police are investigating a burglary that occurred at an AT&T store at the Pinnacle early Monday morning.
Authorities say an unknown suspect gained entry through the front of the business by breaking glass. Surveillance footage shows he then stole a number of display cell phones and tablets before exiting the store. This same suspect is said to have committed a similar burglary at a separate AT&T store in Hazard, Kentucky. The suspect is described to have been wearing a grey hoodie, black shorts, and gloves while driving a black sedan with dark tinted windows during the time of the incident.
Anyone with information on the case is asked to contact detective Justin Bush at 423-989-5530. The investigation remains ongoing.
Courtesy of Image: Bristol, TN Police Department